Employment in the United States technology sector increased for the 16th consecutive month in March, continuing to prove to be a great career path for IT professionals breaking into the industry. Employer job postings for open positions grew from 383,000 to just under 412,000 for the month. Industries with the largest number of openings included professional, scientific and technical services (70,377), finance and insurance (49,587) and manufacturing (52,007).
Each month at CompTIA, our research team provides a snapshot of the current state of IT industry employment with our 
Tech Jobs Report
. Read on as we slice and dice this report into bite size pieces for you to digest depending on what is most beneficial to your IT career.
IT Job Opportunities
The industry is kicking off the new year with a strong amount of job openings. The opportunity for a new role is out there, but are more common in certain locations, industries and for particular job titles.
Job Postings by Location
Do you live in one of these tech towns or thinking of relocating? Tech job postings have grown most in these five metro areas since the previous month:
New York City +3,571
Chicago +1,912
Atlanta +1,379
Philadelphia +1,279
Charlotte +1,204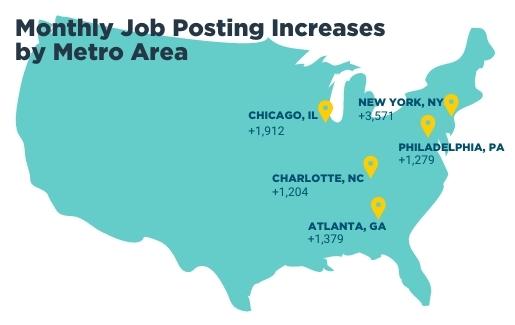 Job Postings by Industry
If you're looking to try out tech in a new field, these industries are where most new jobs are being posted:
Professional, scientific and technical services: 70,377
Manufacturing: 52,007
Finance and insurance: 49,587
Information: 21,288
Retail: 13,164
Health care and social assistance: 11,169
Public administration: 8,787
Continue reading:
https://www.comptia.org/blog/it-career-job-opportunities