1
Turning Inspiration into Innovation: Emerging Technology Trends in Managed Services for 2022
Whether it's blockchain, artificial intelligence, drones, or beyond, emerging technologies pique imaginations and jumpstart business owners' thoughts about innovation and money-making potential. Count MSPs among the inspired. And yet, turning inspiration to profit is a journey for most. And while MSPs are top of their game when it comes to managing traditional infrastructure hardware and software, most are not cryptocurrency or virtual reality experts. In this case, embracing emerging technology will require adjustments, investments, and new thinking.
What does this journey look like and how successful can it be?
To start to answer these questions, it's important to note where emerging tech sits on today's MSP radar screen. CompTIA's Trends in Managed Services 2022 research finds MSP enthusiasm high for a wide range of technologies to serve as a path for growth and profitability. Half of respondents say emerging technologies—those sold to customers and/or used internally to run their own business operations—will play a major role in the evolution of the managed services market in the next two years. Another 43% believe emtech will have at least a moderate role. And only a small fraction (7%) remains mostly blasé about emtech's potential impact on their business.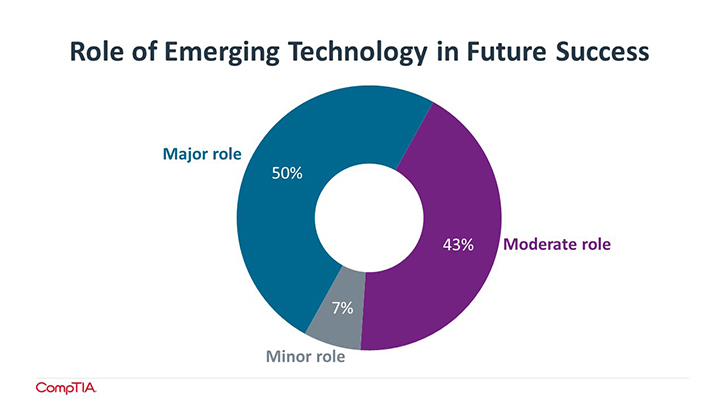 Belief that future growth and success will hinge at least in part on successful adoption and integration of emerging technologies is shared by MSPs of all sizes, from those with fewer than 10 employees on up to enterprise-level practitioners. How to achieve that success, like with many business decisions, depends heavily on the groundwork laid in advance. For MSPs embarking on an emtech journey, more than a few questions should come to mind. Consider:
Which emerging technologies work best for my business goals? For my customers?
What's the cost associated with adoption? How do we finance it?
What are our ROI targets?
Do we have the necessary technical skills? If not, how do we attain them?
How much emphasis should be placed on new technologies vs. our current mainstays?
Are sales, marketing, and demand-gen messages aligned with newer offerings?
Which vendors do we work with?
Many of the answers to these questions are subjective based on the type of MSP company in question. But as in the case when entering any new market or discipline, working through this list in advance will help prevent missteps that can occur from diving in without due diligence.
Continue reading: https://connect.comptia.org/blog/turning-inspiration-into-innovation-emerging-technology-trends-in-managed-services