1
Forbes Careers: How To Ask For A Raise, Stop Underestimating Yourself And Worry Less About Layoffs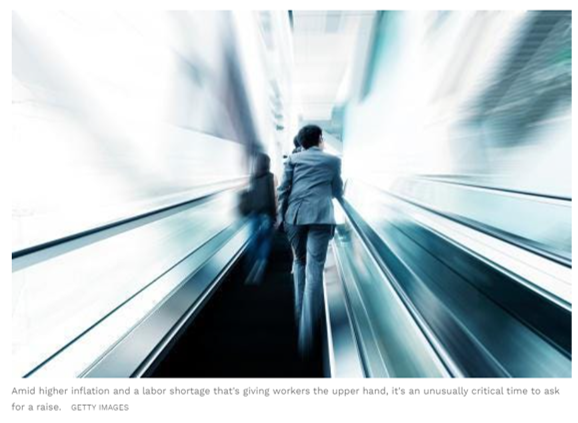 onsumer price increases are hitting near-record, 40-year highs. A labor shortage is escalating. State pay transparency laws are making it easier to learn what jobs are paid. And a reawakened labor movement is forcing employers to be more responsive to workers' demands.
If ever there was a good time to ask for a raise, it's almost certainly now.
"People don't perceive themselves as having as much leverage and power right now as they do," says Ben Cook, the CEO of Riva, a salary negotiation startup founded with Harvard Business School experts. "Right now is a phenomenal time to go and ask for a raise."
Yet despite this unprecedented wave of favorable conditions, you might still find it hard to ask your boss for more salary. For many, touting your own accomplishments—not to mention having a frank talk about money—feels awkward. If you're a woman, you know you have to navigate tricky gender norms about how assertive people expect you to be.
And even as more workers talk openly about pay, negotiations tend to be information asymmetry at its worst, with managers typically having more data about what jobs are paid than you.
Still, there are ways to go into the conversation with confidence—and come out of it with a raise–or at least something else desirable you want. Below, find key steps to remember when you negotiate salary, and what to do if the response is no.
WAIT FOR A WIN
Timing is everything, especially when asking for a raise. Don't plan it for when your boss is at her busiest or after a slip-up. And pick a time that immediately follows a win you can claim or a big sale you just clinched. "The timing of the ask makes a huge difference," says Kathleen Downs, a senior recruiting manager for Robert Half.
You also don't want to go in too late, after payroll budgets have already been set and promotions have already been decided. The discussion will more likely be a process that takes time. "A raise conversation is not one day, one half hour of time," says Katie Donovan, a pay equity and salary negotiation consultant based in Boston. "It needs to be planned out usually for next fiscal year. Start it six months ahead. … it's going to take a while."
PERFORM YOUR OWN JOB SEARCH
To get started, play the role of job seeker, looking for what not only your company, but others like it, are paying for new hires in similar roles. A small but growing number of localities, like Colorado and, by the start of next year, New York City and Washington state, now require employers to disclose pay ranges for new jobs.
Experts say that's starting to have an impact on salary information in job ads, with employers publishing ranges elsewhere, too. "Do a theoretical job search—look to see what salaries in those places are offering," says Linda Babcock, a professor of economics at Carnegie Mellon University and the author of books on negotiation and women's careers. "That can help you calibrate your request."
Continue reading: https://www.forbes.com/sites/jenamcgregor/article/how-to-ask-for-a-raise-amid-soaring-inflation/?sh=6e53c7d27760